Description
E-monitoring System
Water from borewells, rainwater tanks and dams may contain harmful microorganisms, such as bacteria, viruses and protozoa. UV radiation can eliminate most of these from your drinking water, making it safe. But if the UV light intensity falls below a set standard the system will not be able to safely disinfect water. This water purifier features an e-monitoring system that regularly checks the UV intensity in your filtered water. If and when the UV intensity falls below the optimum level, it automatically shuts the system off.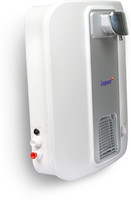 Four-stage Purification System
This water purifier employs a four-stage purification process to make regular tap water safe for drinking. Tap water first passes through the sediment filter that gets it rid of coarse and fine suspended dirt impurities. After that, the water goes through the pre-activated carbon block filter that absorbs hazardous impurities, such as chlorine, pesticides, herbicides and trihalomethanes (THMs), from the tap water. In addition, it also eliminates bad taste, odor and color from your drinking water. The next step in the purification process is the Ultrafiltration cartridge that effectively rids the filtered water of bacteria, colloid, algae, cysts, giardia and other such residual organic matter. In the last stage the almost-filtered water goes through the Ultra Violet (UV) disinfection column that takes advantage of Ultraviolet radiation to remove waterborne disease-causing bacteria, virus and protozoa from it, making it safe for drinking.
Design
This water purifier features a sleek and elegant design that will beautifully complement your kitchen's modern decor. In addition, this kitchen appliance has provision for, both, forward and back flushing to enhance the filter's life. The shutter tray of this water purifier helps you conveniently fill a glass or a bottle of water.
Smart Water Dispensing
The Livpure Touch UV comes equipped with a panel that has a power button, along with buttons for custom flow and free flow. To top it off, it also has a filter-change indication system that lets you know when it's time to replace the filter.
Purification Capacity
The Livpure Touch UV has a filtration capacity of 60 L of water per hour.